so sah die Bell in wirklichem Leben aus
Unter anderem vieleicht bekannt aus dem Film M.A.S.H.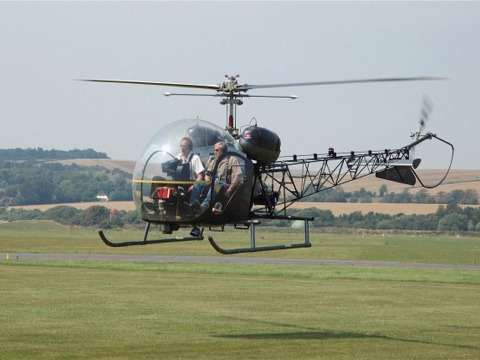 Spezifikationen:
Antrieb: Single Piston
Sitze: Pilot +1
Gewicht: 1205kg
Gesamtlänge: 9.6m
Rotor Durchmesser: 11.6m
Geschwindigkeit: 70kts
Reichweite: 200 miles
erster Flug: 1946
Summary: Not suitable for aerial photography but an excellent helicopter often seen in retro 60/70 movies.
The bell 47 helicopters was designed at the end of World War II, the Bell 47 is known to most people as the helicopter used in the MASH Television series. Over 400 helicopters were built for the US Army and Navy but over 5000 were built over 28 years of production The helicopter was successfully used in Korea for behind the lines support and for evacuation of wounded to Medivac units. Many Bell 47 helicopters still fly in the hands of private pilots and aircraft collectors. With its distinctive Plexiglas bubble cockpit, it is one of the most recognized and "classic" looking helicopters of all time. Because of all the additional spares that were made to support the Bell 47, there are now more Bell 47's licensed and flying than were ever built by the Bell factory! The bell is not suitable for aerial photography /filming, but is an ideal cost effective helicopter for something retro of the 1960/70's. The bell 47 helicopters have often been used for rounding up Cattle and crop spraying.
---
last modified Thursday, 17. July 2008
©
Saltimbanco/Server/Geeks